ACT Race Clutch Discs
ACT race discs can be ordered in 4- or 6-pad configurations, either with spring-centered or rigid-hub designs. For larger clutch sizes, ACT recommends 6-pad race discs for more heat capacity and smoother engagement. Race discs with 4 pads engage harsher, yet shift faster, and are better suited for smaller disc sizes.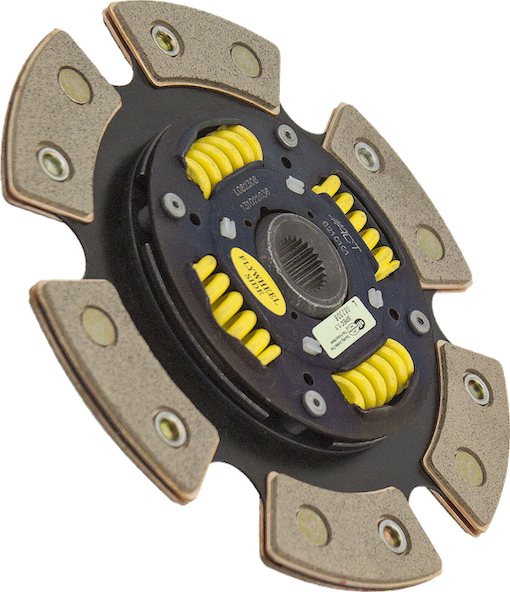 Understanding

ACT's Race Discs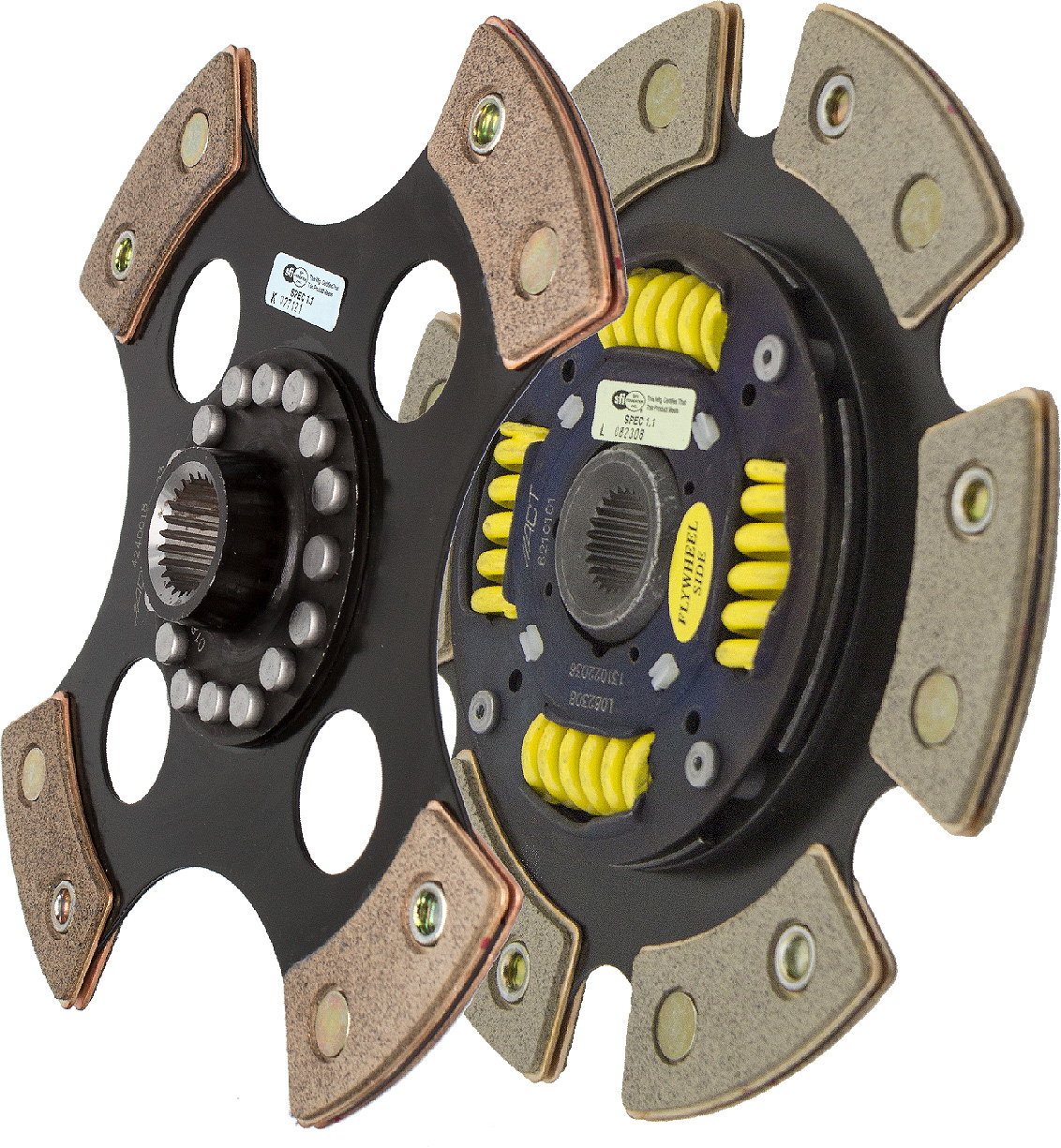 SPRING CENTERED RACE DISC
Most popular choice
Reduced driveline shock and spline wear due to torsional damping
Quieter operation by reducting gear rattle
Choose 6 pads for higher heat capacity and better engagement
Choose 4 pads for quicker shifting
RIGID-HUB RACE DISC
Improved durability from stronger hub components
Increased gear noise and increased spline wear is expected
Choose 6 pads for higher heat capacity and better engagement
Choose 4 pads for quicker shifting
FULL-FACED SINTERED IRON RACE DISC
Best choice for cars using clutchless shifting or drag racing transmissions
Highest torque ratings
Ultra-high heat capacity
ACT Race Clutch Disc

Key Features
SFI CERTIFIED
All Race discs are certified as meeting SFI® Specification 1.1 and are legal in all racing organizations that require SFI® Certification.
PRECISION BROACHED SPLINES
Precision-broached splines ensure an exact fit onto the transmission input shaft for long spline life and better clutch release.
PREMIUM CERAMIC MATERIAL
Premium ceramic friction materials provide high heat tolerance, high coefficient of friction (µ) and low wear rates.
THICKER STAMPINGS
Thicker retainer stampings for improved strength and reliability.
HEATED TREATED HIGH-CARBON SPRING STEEL
All drive plates are made from high-carbon spring steel, then heat-treated and zinc-plated to resist bending, cracking, fatigue and corrosion under the most severe racing conditions.
PRECISION STAMPINGS
Disc components are manufactured using precision stampings from dedicated tooling, allowing the highest quality and consistency.
IMPROVED RETAINERS
ACT spring retainers are designed with wrap-around spring windows to provide additional support and reduce stress concentrations, which eliminate common causes of failure. These improved retainers are found on most ACT Modified and Performance street discs.
IMPROVED CLUTCH LIFE & REDUCED NOISE
Most ACT spring-centered assemblies use bushings and cone or wave springs, similar to factory clutch discs. This creates frictional damping to improve clutch life and reduce noise.
HEAVY DUTY TORSIONAL DAMPER SPRINGS
Heavy duty torsional damper springs are typically stronger than standard springs and are engineered to suit each application.
TOP GRADE RIVETS
Top grade rivets, carefully selected for maximum strength and toughness, are used to securely fasten the disc assembly.