ACT Street Clutch Discs
ACT street discs are available for most popular applications and feature premium organic composite linings, combining increased friction with better heat transfer. These discs have steel-backed linings for greater burst strength and durability. Street discs are built with a limited marcel (engagement cushion), allowing for quicker shifts when used with ACT pressure plates.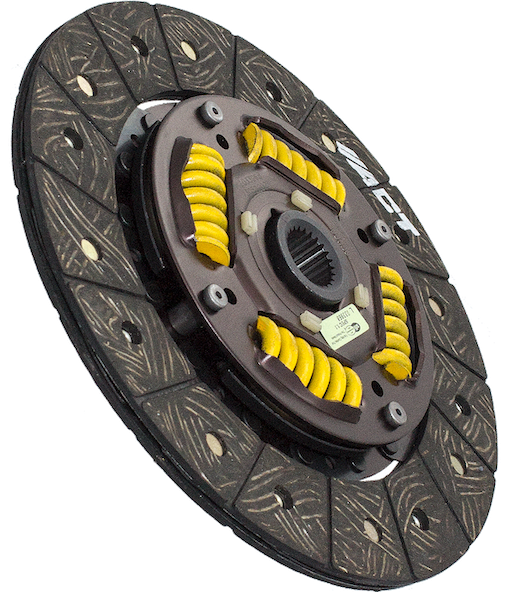 Understanding

ACT'S Street Discs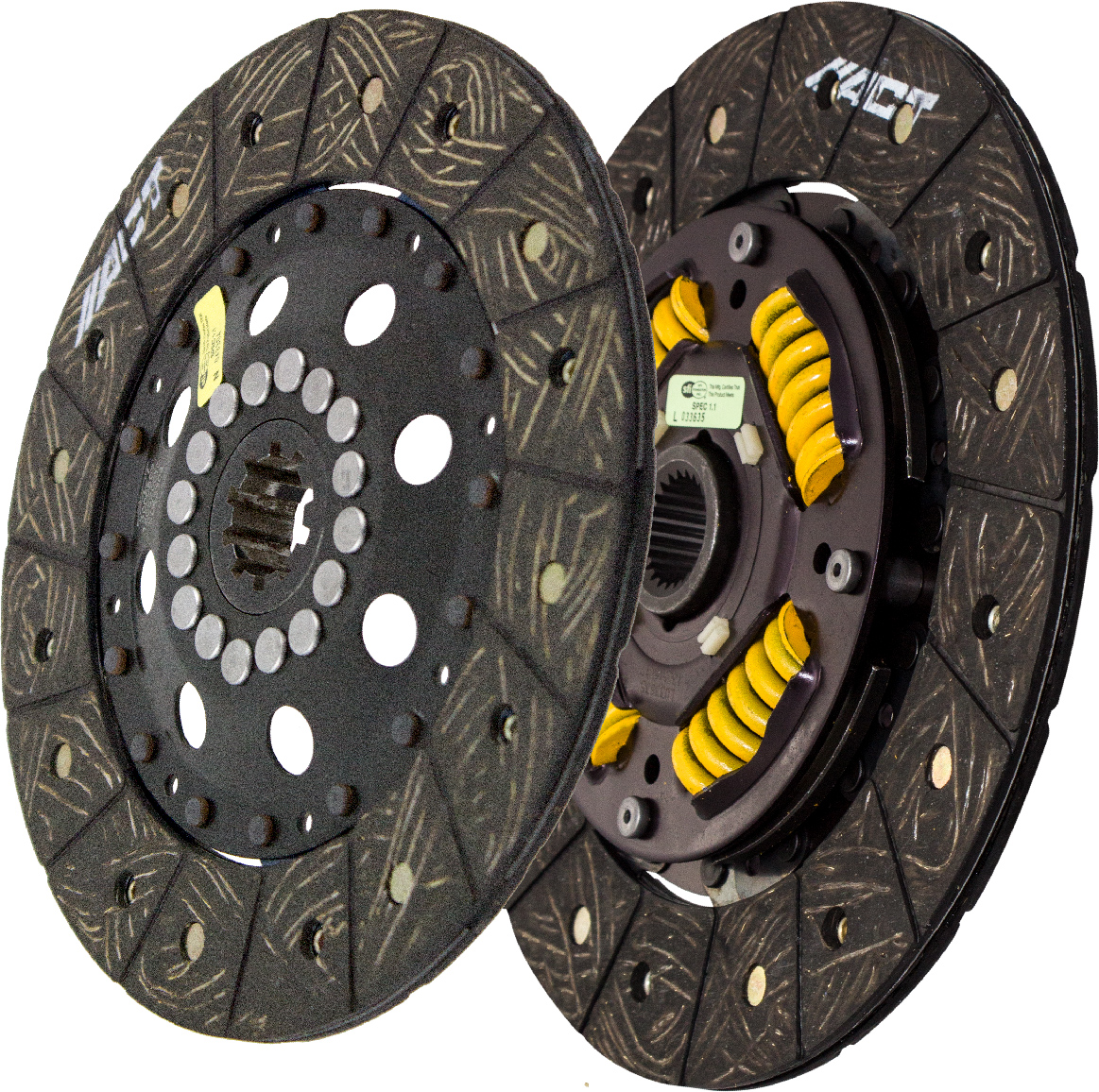 Modified Street Disc
Quicker shifting and engagement
Increased strength and reliability
Improved friction material for more heat tolerance
PERFORMANCE STREET DISC
Most popular choice
Premium friction material for highest heat capacity
Quicker shifting and engagement
Increased strength and reliability
Higher burst strength due to steel-backed linings
Most meet SFI® specifications to ensure safety
RIGID-HUB STREET DISC
Provides race-proven performance with street manageability
Engagement is quick, smooth and precise
Lowest inertia for fastest shifts
Less stress on synchronizers
Ultra-high burst strength
Increased gear noise and spline wear is expected
Most meet SFI® specifications to ensure safety
ACT Street Clutch Disc

Key Features
SFI CERTIFIED
All Modified and Performance street discs are certified as meeting SFI® Specification 1.1 and are legal in all racing organizations that require SFI® Certification.
PRECISION BROACHED SPLINES
Precision broached splines ensure an exact fit onto the transmission input shaft for long spline life and better clutch release.
PREMIUM ORGANIC MATERIAL
Performance street discs feature a premium organic friction material, tested to provide better heat capacity and faster recovery from overheating.
SMOOTH PROGRESSIVE ENGAGEMENT
ACT carefully selects the right amount of cushioning between the linings for smooth and progressive engagement characteristics, without sacrificing performance.
PRECISION STAMPINGS
Disc components are manufactured using precision stampings from dedicated tooling, allowing the highest quality and consistency.
MAXIMUM STRENGTH, FATIGUE RESISTANT
Top grade rivets, carefully selected for maximum strength and fatigue resistance, are used to securely fasten the disc assembly.
IMPROVED RETAINERS
ACT spring retainers are designed with wrap-around spring windows to provide additional support and reduce stress concentrations, which eliminate common causes of failure. These improved retainers are found on most ACT Modified and Performance street discs.
HEAVY DUTY TORSIONAL DAMPER SPRINGS
Heavy duty torsional damper springs are typically stronger than standard springs and are engineered to suit each application. Quieter operation is ensured from high quality, OE-style torsional dampers.
HEAT TREATED SPRING WINDOWS
Spring windows on most street discs are heat treated to resist wear, increase strength and keep springs from "popping out."
REDUCED INERTIA FOR FAST SHIFTS
Rigid hub discs have reduced inertia for faster shifts and lower stress on synchronizers, providing race-proven performance with street manageability.
IMPROVED CLUTCH LIFE & REDUCED NOISE
Most ACT spring-centered assemblies use bushings and cone or wave springs, similar to factory clutch discs. This creates frictional damping to improve clutch life and reduce noise.
GEAR NOISE WARNING
Gear noise may occur due to the absence of torsional damping springs on rigid-hub discs or stiffer damping springs on Performance street discs. This is normal and does not increase transmission wear.