LANCASTER, CALIFORNIA, January 15, 2021 — Advanced Clutch Technology (ACT) releases a full range of Mod-Twin 225 Clutch Kits for the Subaru WRX STi. ACT's new Mod-Twin 225 is a performance breakthrough, resulting in an
ultra-durable, customer serviceable, long-lasting clutch with extremely high torque capacity without the tradeoffs often associated with a twin disc clutch.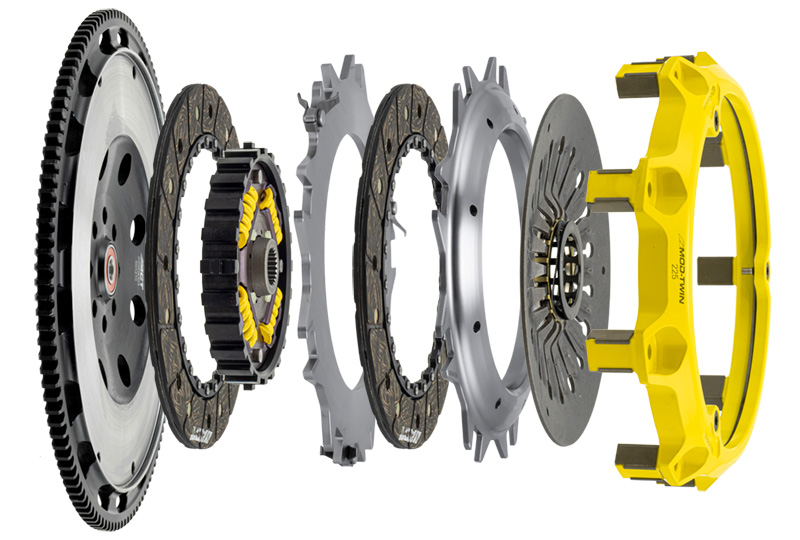 Ideal for Street: Mod-Twin 225 Street Kits provide excellent feel and drivability while quite capable of holding up to 875 ft. lbs. of torque; perfectly suited for daily use.


Destined to Win: Mod-Twin 225 HD, XT, and XX Race kits endure the punishment of competitive racing, whether it is drag, road or rally racing. The Mod-Twin delivers excellent clutch life and resilience at torque levels as high as 1300 ft. lbs.


Less is More: A single Mono-Drive hub by ACT increases toughness and spline life while providing either a robust damper or rigid coupling to the transmission.


Modular: Optional components for the Mod-Twin can be combined any one of ten configurations. The Mod-Twin has three different clamp loads available, alternate friction plates and a choice of either a sprung or rigid Mono-Drive hub.


Simple Installation: Uses the factory pull-type design for maximum efficiency. ACT's patented Monoloc solves the OE wedge collar woes. Kit includes chrome-moly XACT flywheel, ARP clutch bolts, improved release bearing and alignment tool.
To view a PDF of the press release and specifications sheet, please click
Read more »