LANCASTER, CALIFORNIA, January 12, 2023 — Advanced Clutch Technology (ACT) has released a range of clutch kits for the Jeep Wrangler JL & Gladiator JT Applications (see spec sheet for detailed application listings).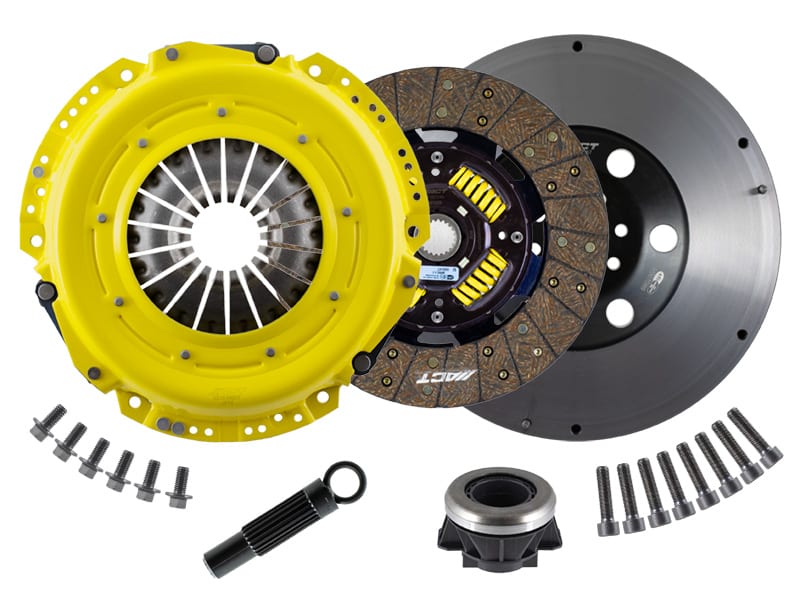 ACT solves the factory clutch and flywheel troubles on the 2018+ Jeep Wrangler/Gladiator (JL/JT) by replacing the expensive OE DualMass Flywheel/Twin Disc Clutch and lackluster performance with a powerful 11-inch Single-Disc clutch and flywheel. ACT's new Clutch Kit improves torque capacity, reliability, and, best of all, clutch feel. This kit is designed to work with factory hydraulics for easy installation, and ACT offers two flywheel weights and two friction materials to best suit your needs.
ACT's new Clutch Kits for the Jeep JL & Gladiator include a Heavy Duty Pressure Plate, Street Mass Flywheel (JP5 Kits) or Pro-Mass Flywheel (JP6 Kits), a choice of Disc, Release Bearing, Bolts, and Alignment Tool. The specially designed diaphragm spring of ACT's Heavy Duty Pressure Plate dramatically increases clamping force and incorporates hardened diaphragm fingers for longer clutch life.
The JP5 Kits feature the Street-Mass Flywheel, developed with no significant change of inertia, making it well-suited for normal street use. The JP6 Kits feature the Pro-Mass Flywheel, developed with greater inertia to reduce stalling, improve pulling and crawling capabilities. It is perfect for heavy vehicles or oversize tires. The proper mass distribution gives an optimal increase of inertia with a minimal weight penalty. ACT Flywheels can be resurfaced with no need to purchase additional parts.
The ACT Street Clutch Kit provides a positive and consistent pedal feel, smooth engagement, and substantially improved durability. The ACT's Street Disc utilizes a robust spring center design and steel-backed friction linings for ultimate reliability. These kits meet SFI Spec 1.1 racing safety standards and increase torque capacity up to 479 FT-LB.
The ACT Race Clutch Kits combine the Heavy Duty Pressure Plate with a Cerametallic Xtreme Race Disc, which is available in a 6-Pad Spring-Centered design. These Discs are highly durable and quick engaging but still drivable. The Xtreme Race Discs are for high-powered engines and are recommended for competition use only. The ACT Race Clutch Kits meet SFI Spec 1.1 racing safety standards and are rated to hold up to 613 FT- LB of torque at the crank.
To view a PDF of the press release and specifications sheet, please click here.