LANCASTER, CALIFORNIA, March 4th, 2021 — AdvancedClutch Technology (ACT) has released Xtreme Clutch Kits for the 2015-2017 Golf R and Golf GTi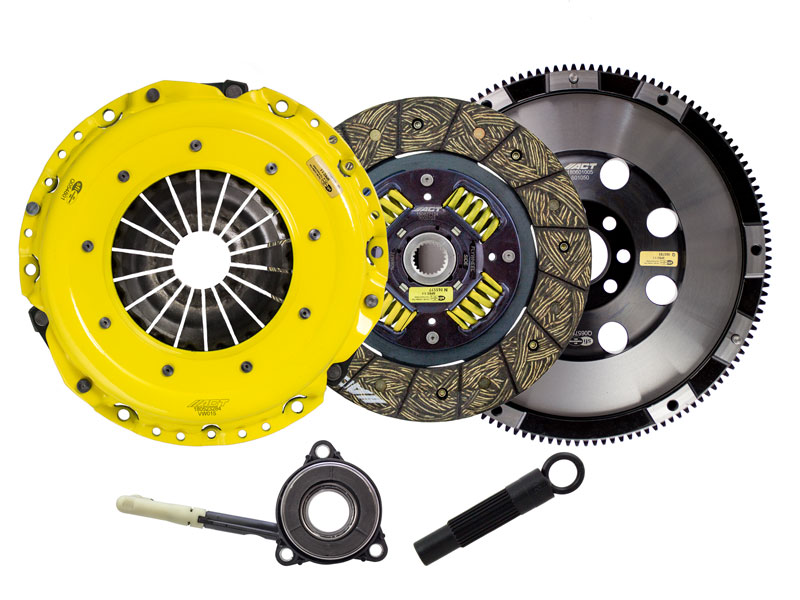 ACT's new clutch kits for these applications include an Xtreme Pressure Plate, a choice of a Street or Race Disc, a Release Bearing, a Pilot Bearing, an Alignment Tool and an XACT Streetlite Flywheel.
The ACT Street Clutch Kits feature an Xtreme Pressure Plate with a Performance Organic Street Disc. The disc features premium organic friction materials to withstand increased heat and abuse, steel-backed linings for high-burst strength and modifications engineered for quicker shifting. The premium organic street disc is spring-centered to properly damp torsional vibrations for quieter operation. The ACT Street Clutch Kits meet SFI Spec 1.1 and have increased torque capacity up to 565 ft.-lbs.
The ACT Race Clutch Kit features the Xtreme Pressure Plate paired with a cerametallic Xtreme Race Disc, which is available in a 6-pad spring-centered design. This disc is very durable, while allowing for quick shifting. The Xtreme Race Disc is for high-powered engines and recommended for track use only. The ACT Race Clutch Kit meets SFI Spec 1.1 and will hold 723 ft.-lbs. of torque.
The XACT Streetlite Flywheel is a one-piece, forged Chrome-Moly Steel Flywheel. It is CNC-machined, features an induction-hardened, integral ring gear for increased durability and can be resurfaced. The XACT Streetlite Flywheel weighs 16.3 lbs. and is recommended for road and rally racing.
To view a PDF of the press release and specifications sheet, please click here.