LANCASTER, CALIFORNIA, February 18th, 2021 — Advanced Clutch Technology (ACT) has released the new VW016 Pressure Plate. The VW016 features a more efficient cover design, resulting in better release and pedal feel. This Pressure Plate replaces the VW014 in the VW7 and VW8 Series Kits. We have also released two new Streetlite Flywheels the 601300, supersedes the 600830 in the VW7 Kits, and the 601301, supersedes the 600831 in the VW8 Kits. All other Kit Components remain the same (see spec sheet for detailed application listings).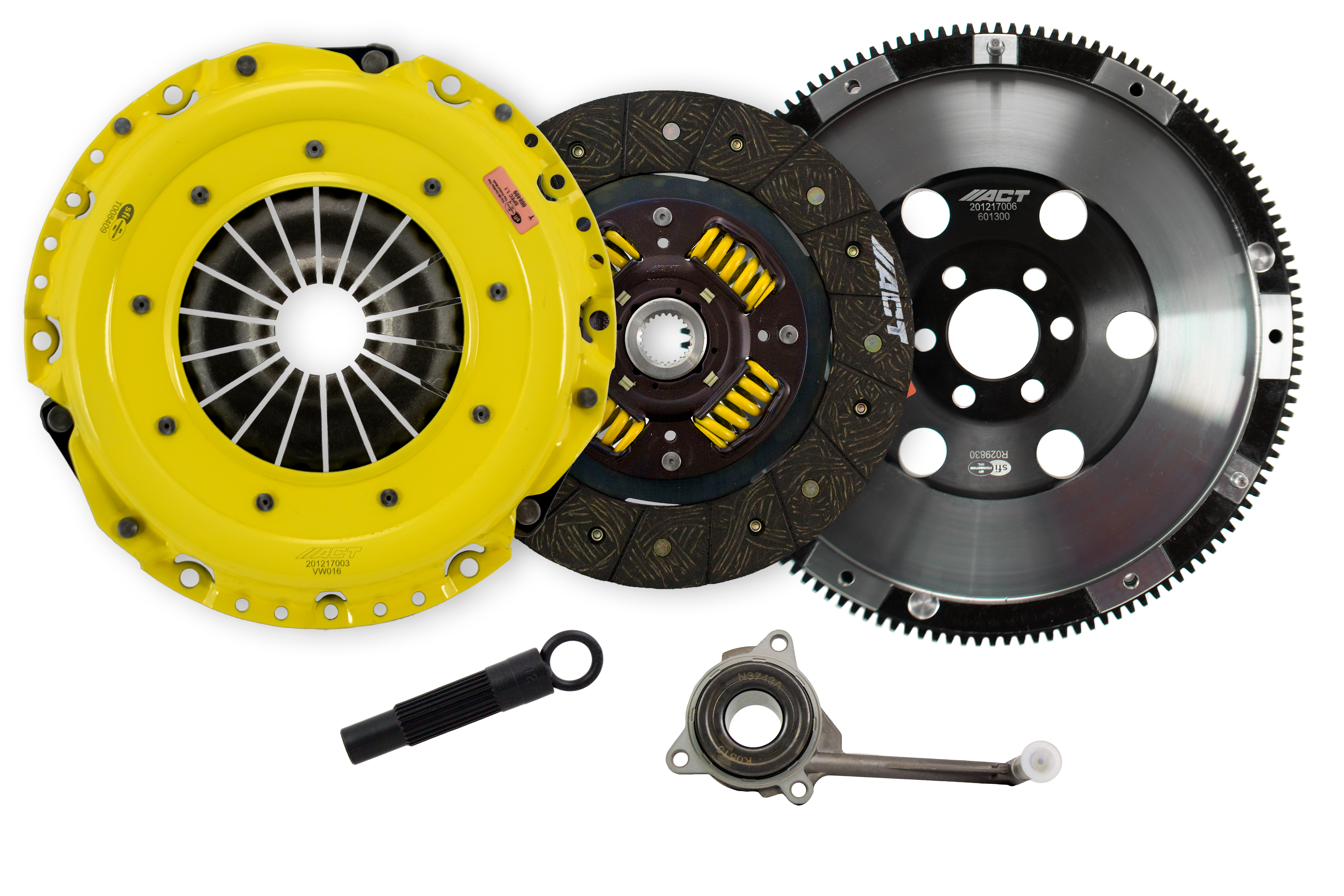 ACT's VW7 and VW8 Clutch Kits for these Euro Applications, include a Heavy Duty Pressure Plate, Streetlite Flywheel, a choice of Disc, Release Bearing, and an Alignment Tool. The Heavy Duty Pressure Plate incorporates hardened diaphragm fingers for decreased wear and provides a 30% increase in clamp force over the stock unit.
The ACT Street Clutch Kits combine the Heavy Duty Pressure Plate with a Performance Organic Street Disc. The disc features premium organic friction materials able to withstand increased heat and abuse, steel-backed linings for high-burst strength and modifications engineered for quicker shifting.
The ACT Street Clutch Kit provides a moderate and consistent pedal feel, smooth engagement, and significantly improved durability. These kits meet SFI Spec 1.1 and have increased torque capacity up to 399 FT-LB.
The ACT Race Clutch Kits combine the Heavy Duty Pressure Plate with a Cerametallic Xtreme Race Disc, which is available in a 6- Pad Spring-Centered Hub Design. These discs are highly durable while allowing for quick shifting. The Xtreme Race Discs are for high-powered engines and recommended for track use only. The ACT Race Clutch Kits meet SFI Spec 1.1 and are rated to hold up to
511 FT-LB of torque at the crank.
To view a PDF of the press release and specifications sheet, please click here.